Moderator: Officers
Iron Chef
Posts: 885
Joined: Fri Jan 28, 2005 3:40 pm
Location: The Nomad (Totally macking on Otacon)
Contact:
---
Officer Emeritus

Posts: 98
Joined: Tue Sep 15, 2009 11:21 pm
---
Officer Emeritus

Posts: 630
Joined: Wed Jul 23, 2008 1:34 pm
Location: North Denton
Contact:
---
Magical Poster
Posts: 63
Joined: Fri Jan 29, 2010 12:55 am
Location: ALWAYS online
Contact:
---
Posting Mecha
Posts: 35
Joined: Thu Feb 22, 2007 11:05 pm
Location: denton
---
Industry Liaison

Posts: 90
Joined: Mon Sep 05, 2011 11:12 pm
Location: Little Elm, Texas
Contact:
http://chalk-dust.smackjeeves.com/
---
I have one
Warning:
I have a couple (not a lot) of drawings of yaoi/shonen-ai/BL and yuri/shojo-ai/GL. And if you look through most of my work, you should keep an open mind xD;
Most of it is just ancient stuff/junk and horribly ugly pictures (in my opinion) >u>;
http://kurisuti-chan.deviantart.com/
"When dealing with the insane, the best method is to pretend to be sane."
Hermann Hesse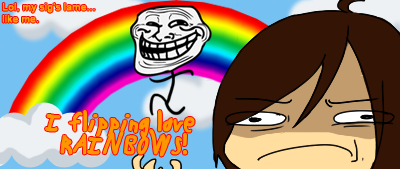 ---
http://navaa.deviantart.com/
I only go there to check up on some art from the Deviants that I watch. All my stuff is CRAZY OLD. I draw as a hobby or whenever I am very bored. I want to get better though and learn how to color with Copic markers. Anyway, feel free to stop by and I would appreciate a comment or watch
---
Member
Posts: 1
Joined: Thu Sep 08, 2011 8:09 am
---
Posting Mecha
Posts: 28
Joined: Wed Sep 07, 2011 10:42 pm
"I've been having these strange thoughts lately... Like, is any of this for real, or not?"
---
Member
Posts: 2
Joined: Sat Sep 12, 2015 8:57 pm
---
---
Who is online
Users browsing this forum: No registered users and 3 guests